SOLD AS A SET OF 2
Regular price
$595.00 USD
Regular price
$2,200.00 USD
Sale price
$595.00 USD
Unit price
per
Sale
Sold out
DUETTI is a Modern Road Bicycle pre-engineered-by Ben and hand-crafted in small batches with the avid road cyclist in mind- neither as aggressive as a Pro Tour bike nor as short/upright as most "endurance" bikes from the big brands. Just perfect for a long day riding on a wide range of surfaces from pavement to moderately maintained packed dirt, cinder, or gravel or your favorite Fondo.

Most important though, the Duetti A9 rides like a Serotta, delivering a ride that is unmatched in any other aluminum alloy frame, and easily superior in performance compared to mid-level carbon frames.

Frames are designed for 28C tires with just enough clearance for 30C road tires and are perfect for all-day riding.

The ORIGINAL MSRP with SRAM RED was $7,695 (Frameset value about $2,500).

Clearance Price Reduced for NEW FRAMESETS only: $595 (frame, fork, headset includes carbon cover and cap, axles).

We also have a few Used/Demo/Display framesets from $295 and up

* $70 shipping in continental US! *Group Discounts Available!

Group Discounts Available!

About the Duetti frameset.

The frame is crafted in 6069, an exotic super-alloy of aluminum. This alloy, along with specific heat treatments and carefully controlled shot peening*, enables us to produce tubes that when formed into our latest proprietary "Colorado Concept" design, are astoundingly light, responsive, forgiving, and durable.

The 6069 super alloy is not produced in North America arc the only frame shops familiar with the material and process are in Taiwan… which is why these Serottas are proudly produced in an immaculate facility in Taiwan.

*This type of shot peening was first developed in the defense industry to increase fatigue life in propellers and related hardware that is challenged by constant vibration combined with cyclical loading-a direct correlation to a bicycle. Controlled peening can increase product life expectancy by more than 300%.

FULL SPECS:

Frameset: Serotta proprietary CC2 6069 seamless tubing.

Fork: Serotta Duetti full Carbon fork, 31.8/28.6 tapered steering column

BB: PF30 68MM: Rear axle through derailleur hanger is Shimano standard thread spec.

Seat Post Dia.: 27.2

Derailleur Cable/Wire Routing:
•Designed for AXS wireless shifting.
•Bikes for NEW Shimano DI2 Spec require an exit hole on the lower ST for front derailleur and rear drive dropout for the rear derailleur, that will be added on request.

Brake Routing :To allow minimal frame weight with maximum strength, the hydraulic hose lines are run external (see photos).

Weights: (Because we know some of you want to ask) vary with frame size. Like all Serottas, our frames will never be the lightest ever made, but they will be the best riding. Our design and engineering prioritize ride performance above all, then reducing weight as far as is prudent without compromising safety.


SOLD AS A SET OF 2
View full details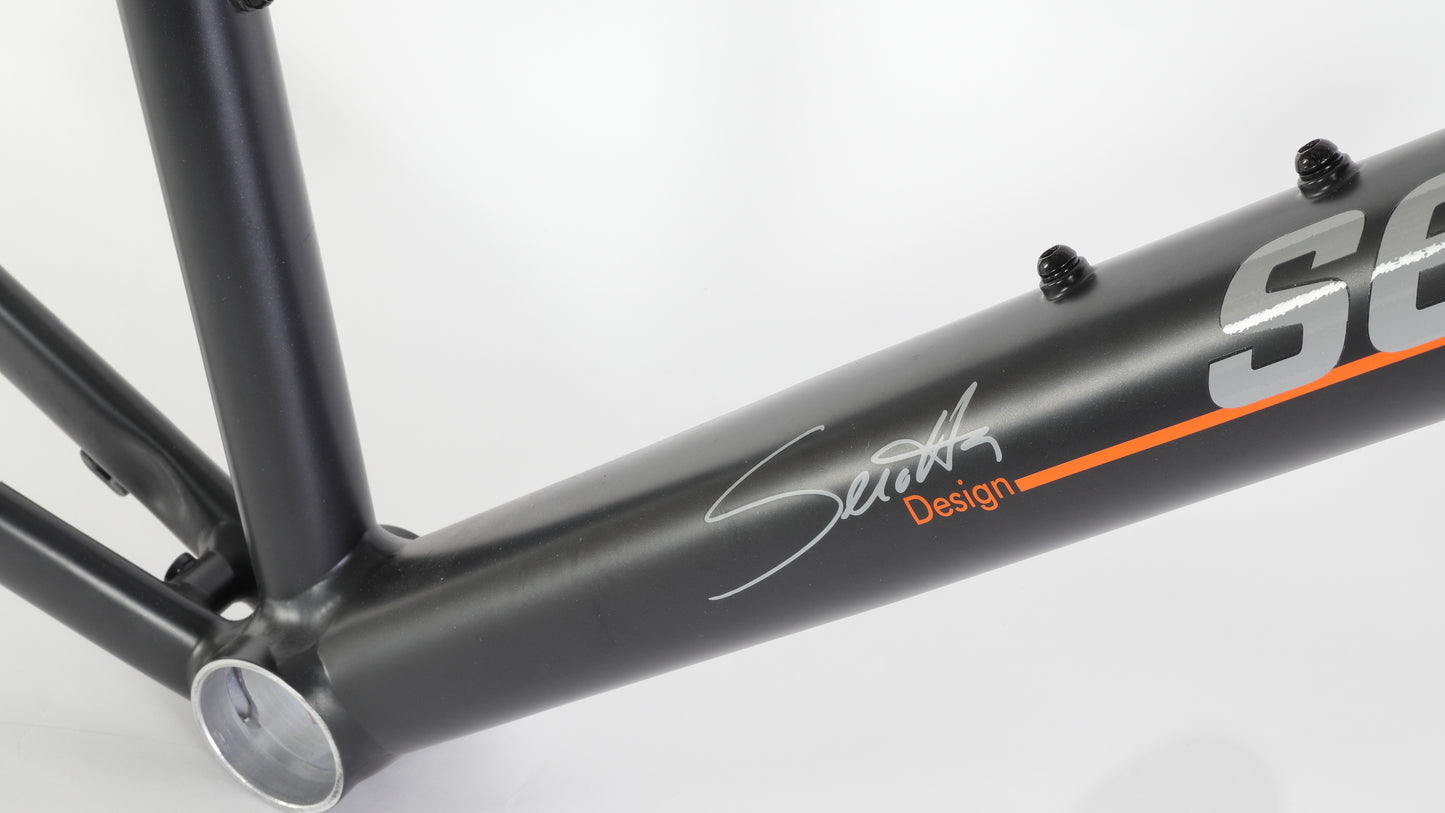 DUETTI A9 SHIPPING & ASSEMBLY OPTIONS
Regular price
Sale price
$0.00 USD
Unit price
per
Sale
Sold out
Share
View full details
Duetti A9 Complete Bicycles.  High Performance meets Highest Value
CHOICE of FOUR 2023 12-spd Electronic build packages from $2,995!  
1) Duetti A9 SRAM AXS RIVAL        $2,995
2) Duetti A9 Shimano Di2 105         $3,295
3) Duetti A9 Shimano Di2 Ultegra   $3,695
4) Duetti A9 SRAM AXS Force         $4,395
All Groups are complete* 2023 factory spec, *NO CHEAP SUBSTITUTIONS!
What's included:
 Duetti A9 frameset- frame, fork, headset, axles, seat clamp, *Wheels Mfg. or similar BB
set (because they are better than SRAM/Shimano!)
 Fulcrum Rapid 3 wheelset (tube or tubeless compatible) w/ Continental or similar 28C
tires w/tubes
 Zipp Contour SL Carbon Handlebar
 Zipp Service Course SL Stem
 Zipp Service Course Alloy Seat Post (setback)
 Choice of crank length, chain ring, cassette bar width, stem length. Please note, there
are so many variables for crank length, chainring combinations and cassettes that we've
listed the most popular selections. For Special Requests: Please write us directly at
orders@serotta.com with your request and we'll do our best to accommodate your needs.
What's not included:
1. Personal Preference Components:
o Saddle, Pedals, HB Tape (because there are too many options for us to stock!)
2. Full Assembly
o Listed price is based on packaged kit format, requiring an experienced mechanic for
assembly.
o Pro-level assembly is available for $425.
3. Shipping
o Listed Price is based on picking up from our Saratoga Springs location.
o Shipping in kit form or as a complete bicycle anywhere in Continental US is just
$100.

To Purchase Assembly or Shipping please go to Duetti Shipping and Assembly Options
Availability & Lead Time
Because there are so many variables (and we are a small team!), please allow 1-3 weeks.